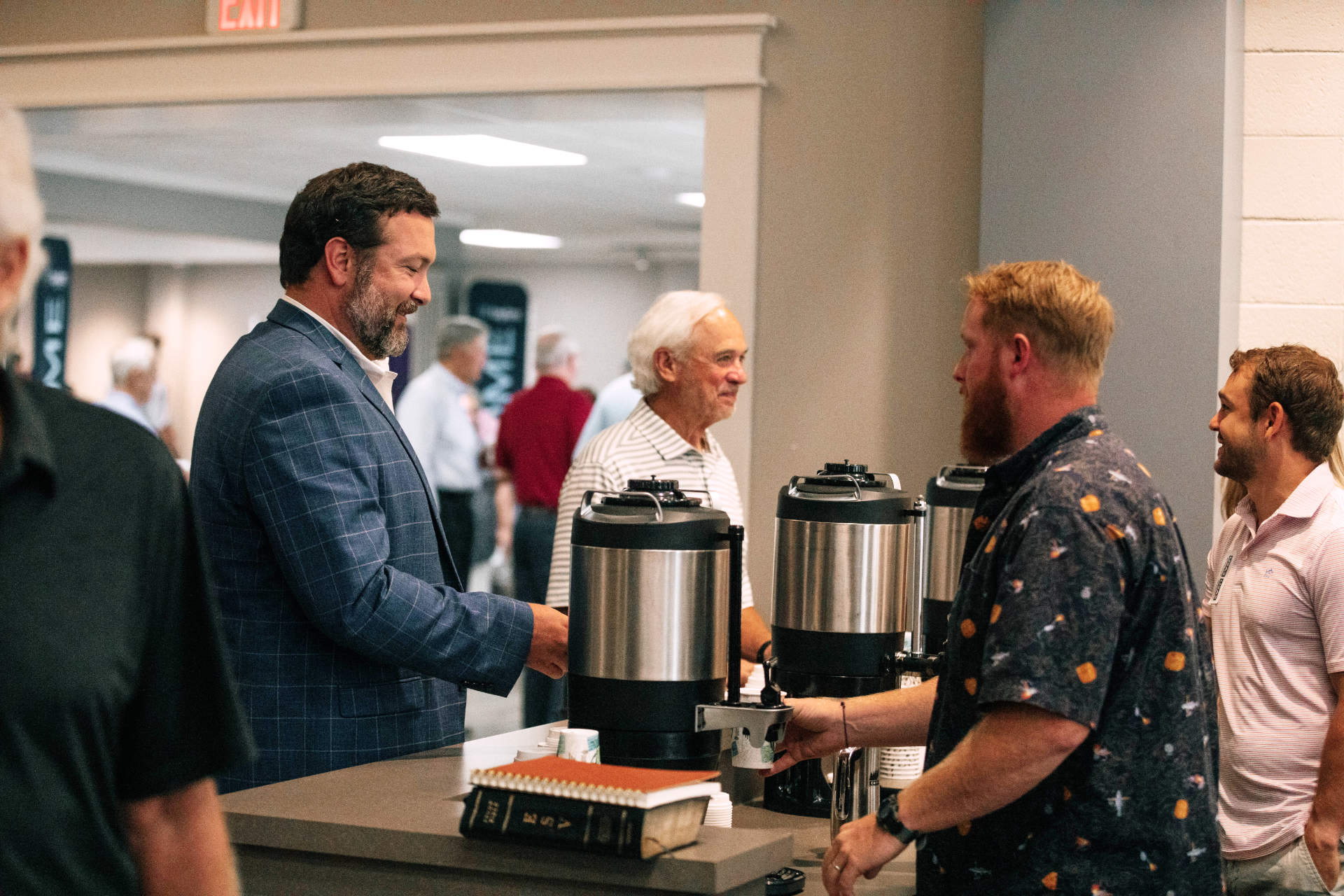 Plan Your Visit to Taylors
Our Service Times:
8:30 am (Band Led Worship), 9:40 am (Traditional Worship), and 11:00 am (Taylors Worship)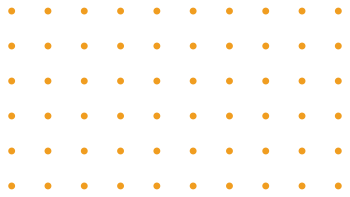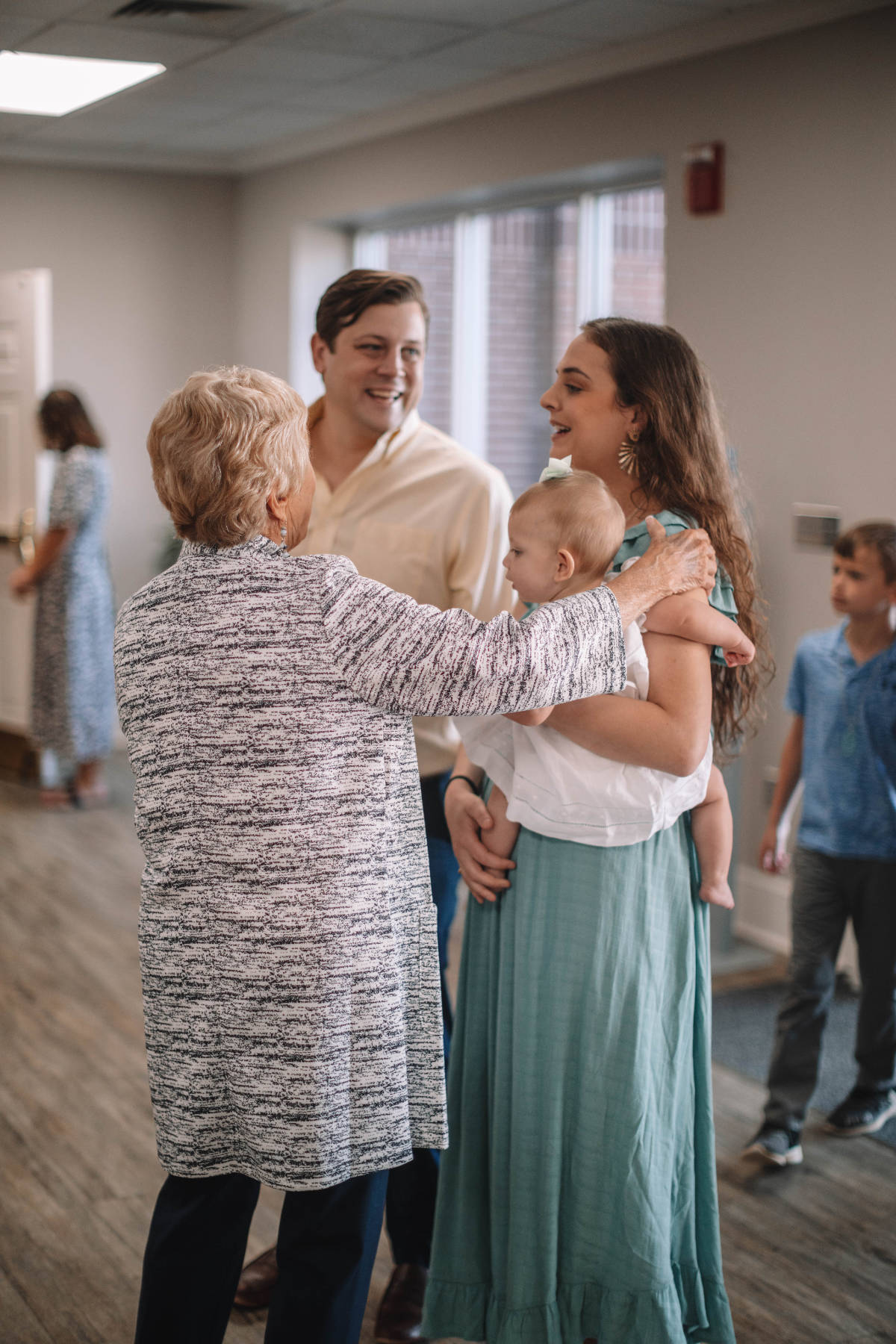 — Find Your Home —
Welcome to Taylors First Baptist Church
Here at Taylors FBC, we consider one another family and we welcome you to become part of that family! Our Guest Services team is here every Sunday morning to help you; whether you're looking for a seat, checking your kids in, or grabbing a cup of coffee, we want to make sure you have exactly what you need. During our services you'll experience biblically rich worship, fellowship with others, and teaching of the Word of God that all point to Christ. Whether you choose to get connected here by filling out our "Plan Your Visit" form or stopping by the Guest Services Desk on Sunday mornings, our goal is to help you get connected. We hope to see you this Sunday!
Want to learn more about our beliefs and values? Click the button below.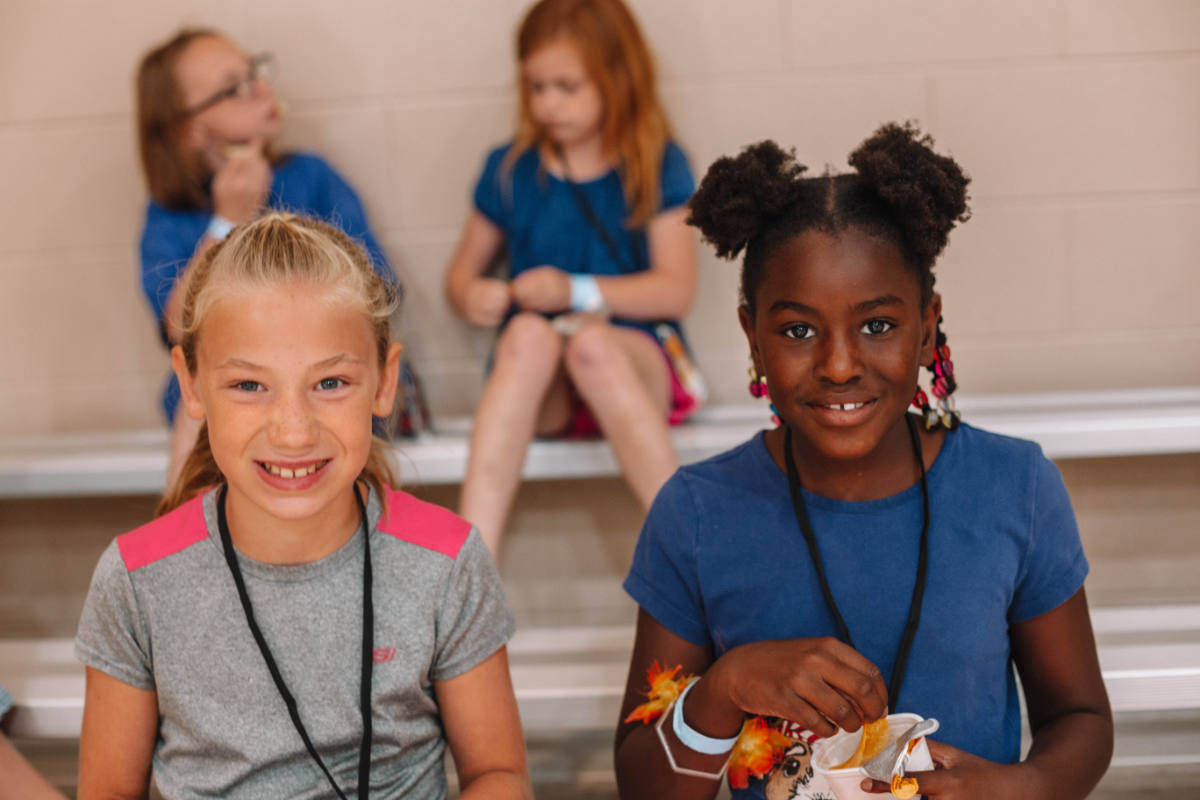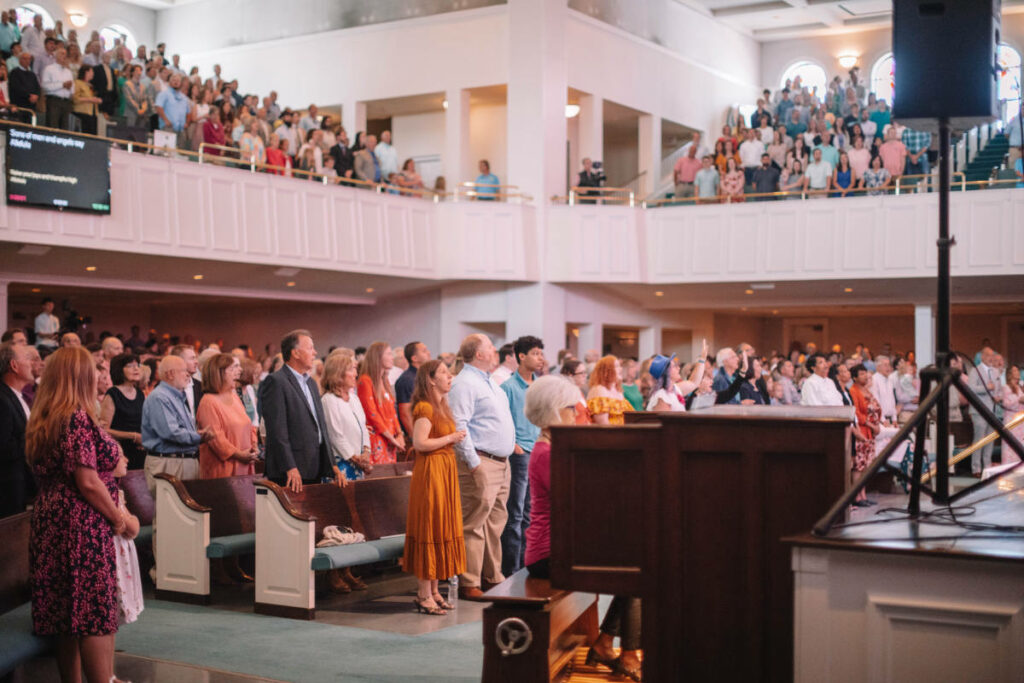 — What to Expect on a Sunday —
When do we gather for worship?
We offer 3 different worship times every Sunday, so everyone has the opportunity to encounter God in and worship in fellowship with others.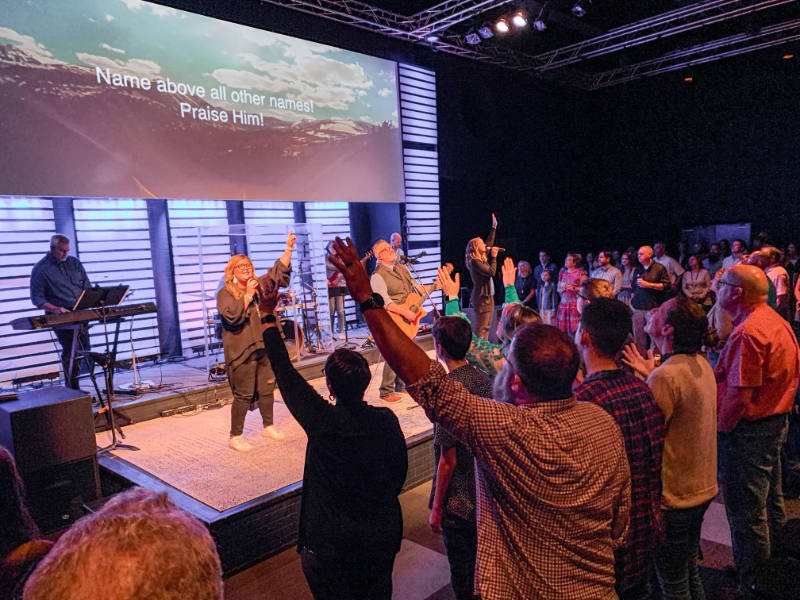 Band Led Worship - 8:30 am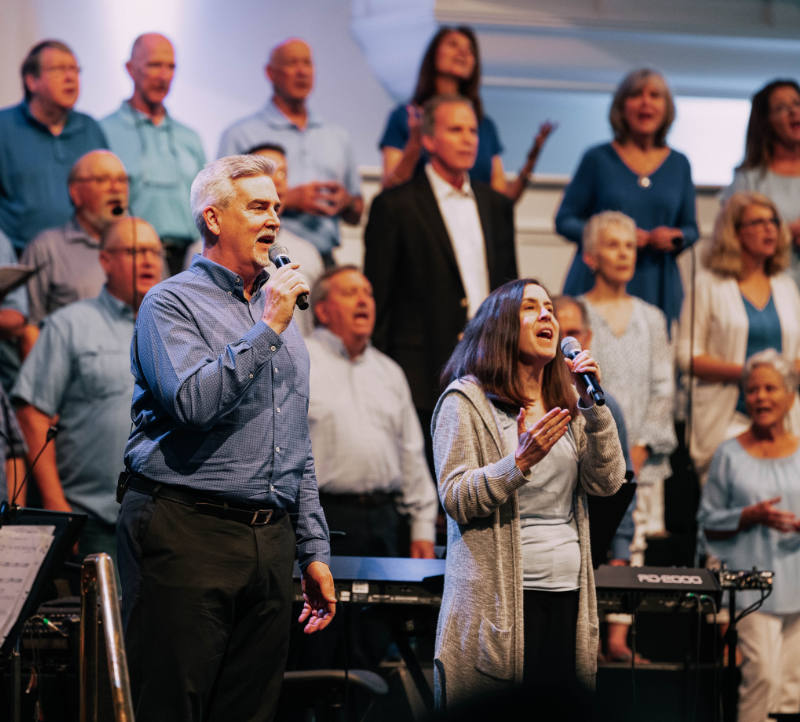 Traditional worship - 9:40 am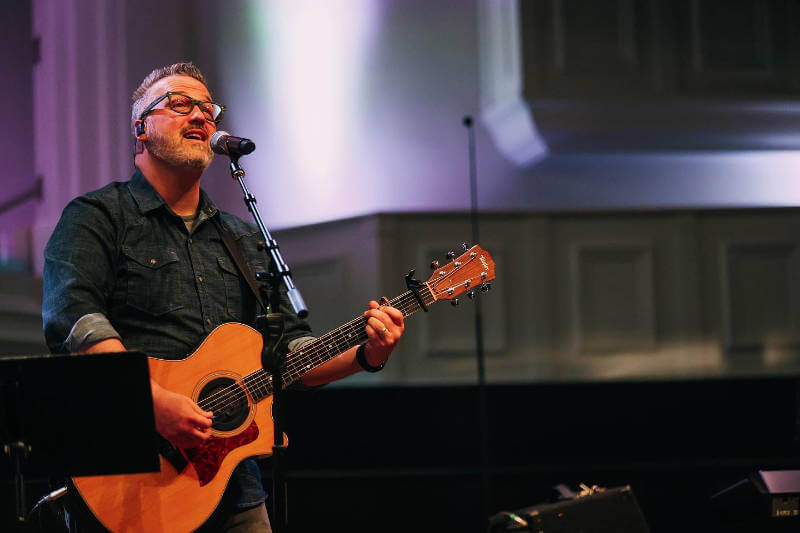 Taylors Worship - 11:00 am
— What to Expect on a Sunday —
What should I expect?
Although we have many services, all of our Sunday morning worship services revolve around the same central components.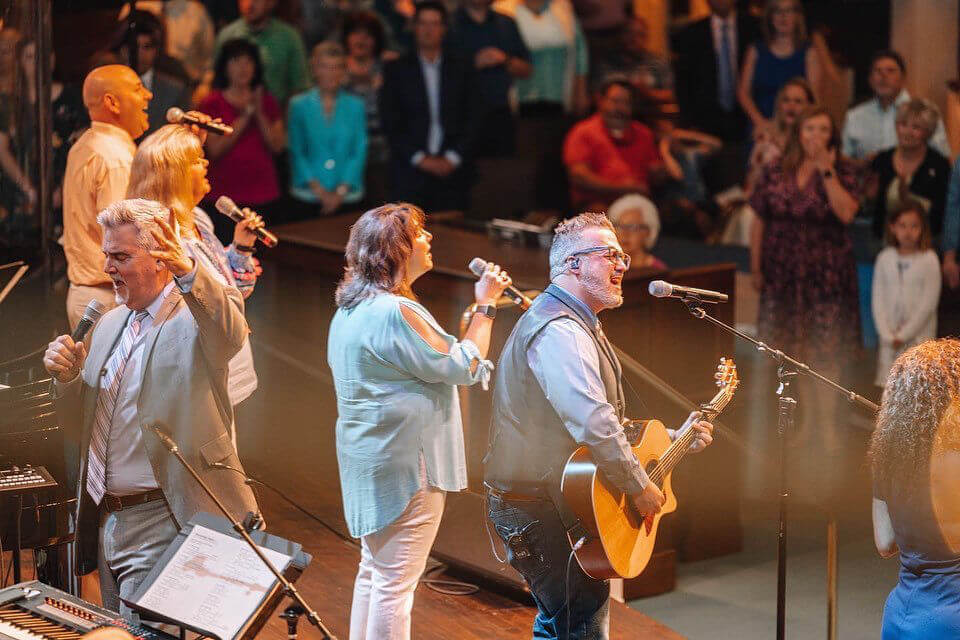 Worship Through Singing the Word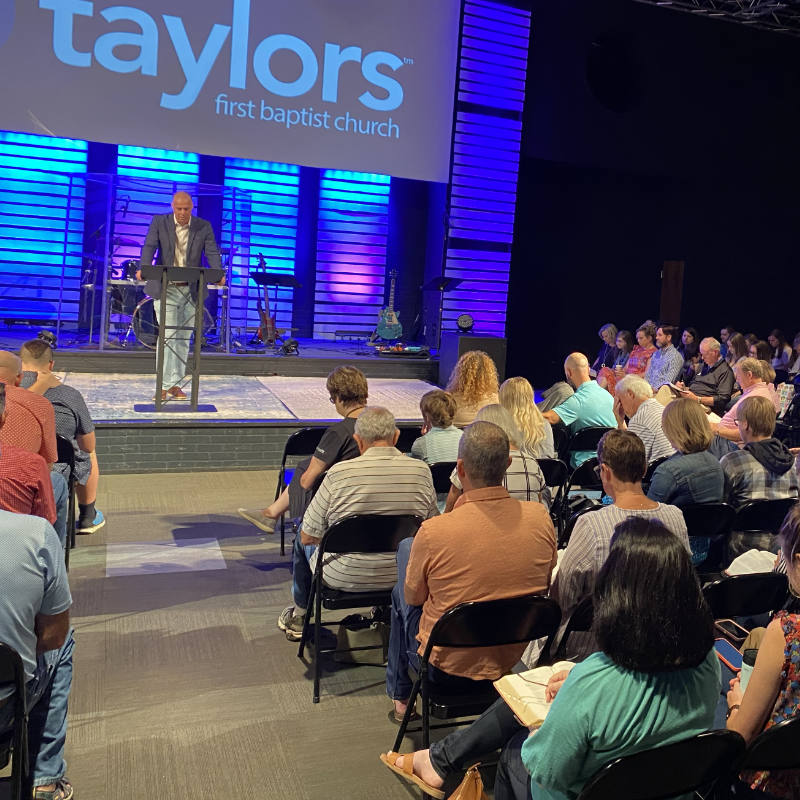 Worship Through Reading the Word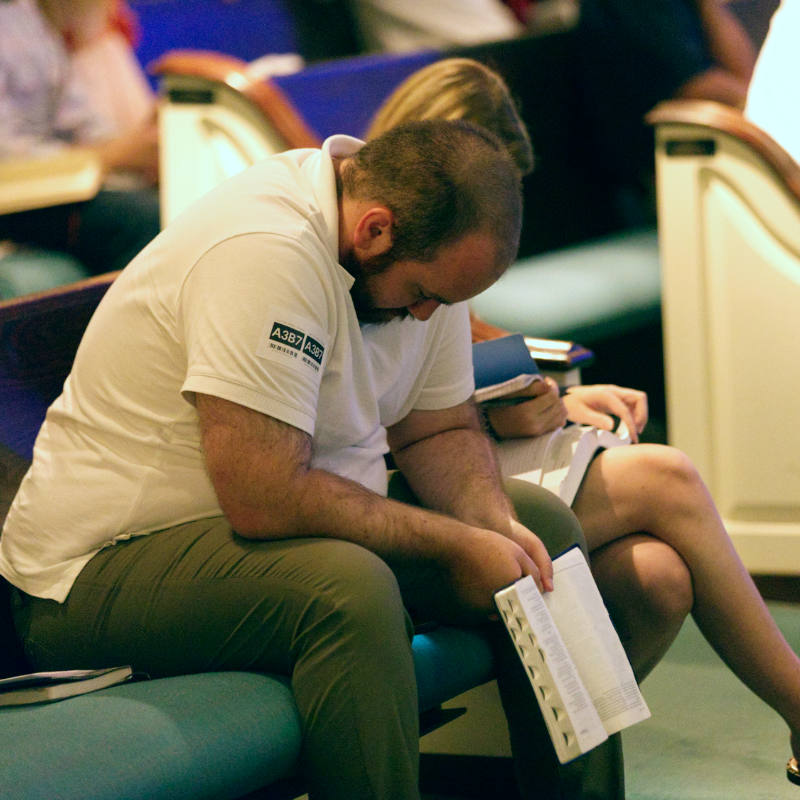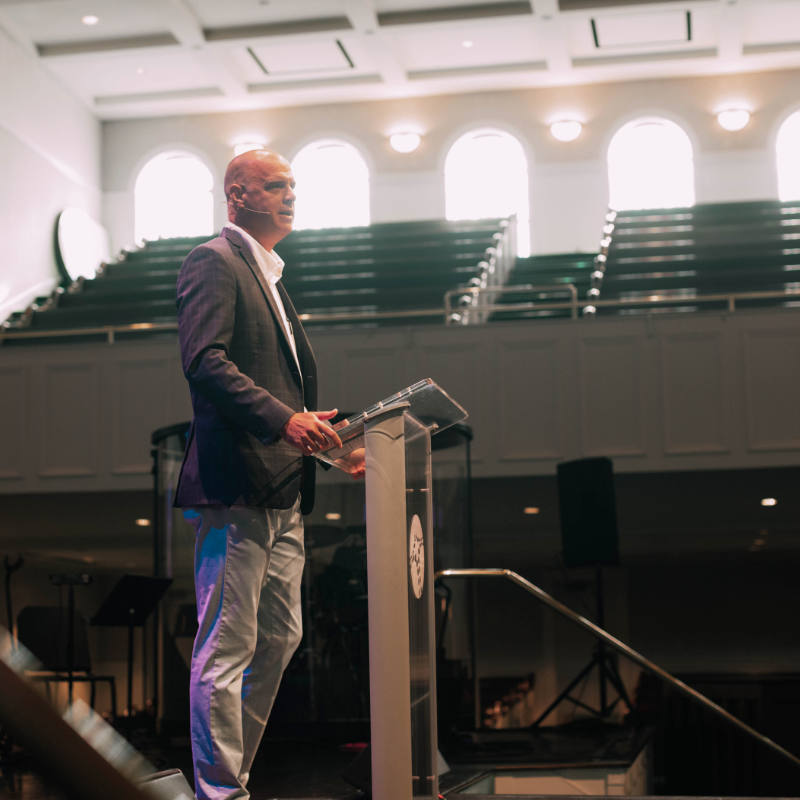 Worship Through Preaching the word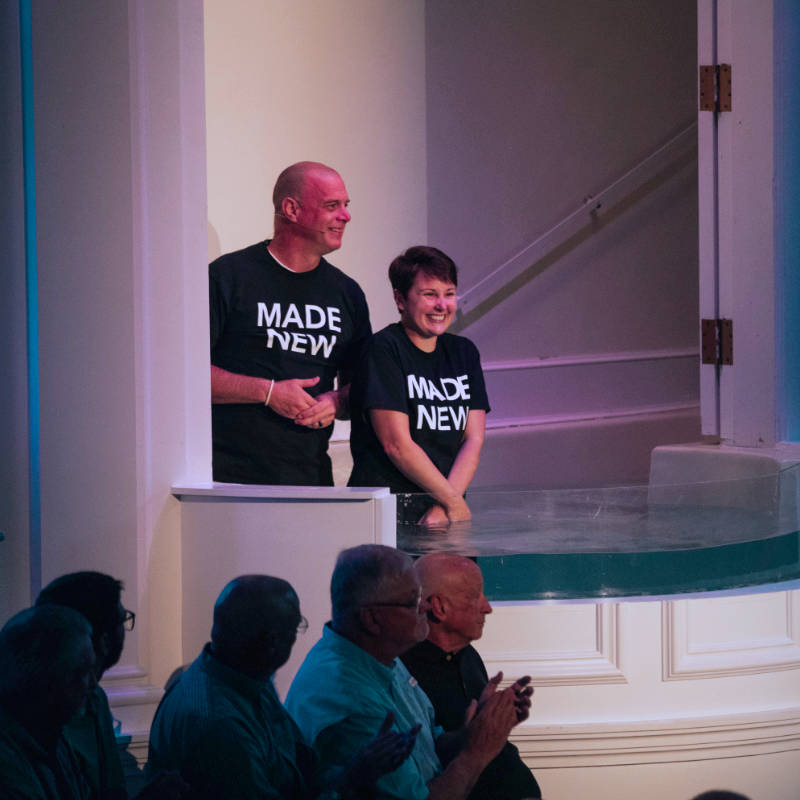 Worship Through Responding to God
— What to Expect on a Sunday —
What should I know?
Our church's campus is not small by any means, but once you know where to park and where to enter, our campus is easily accessible. Use the map and markers below to help plan out your visit.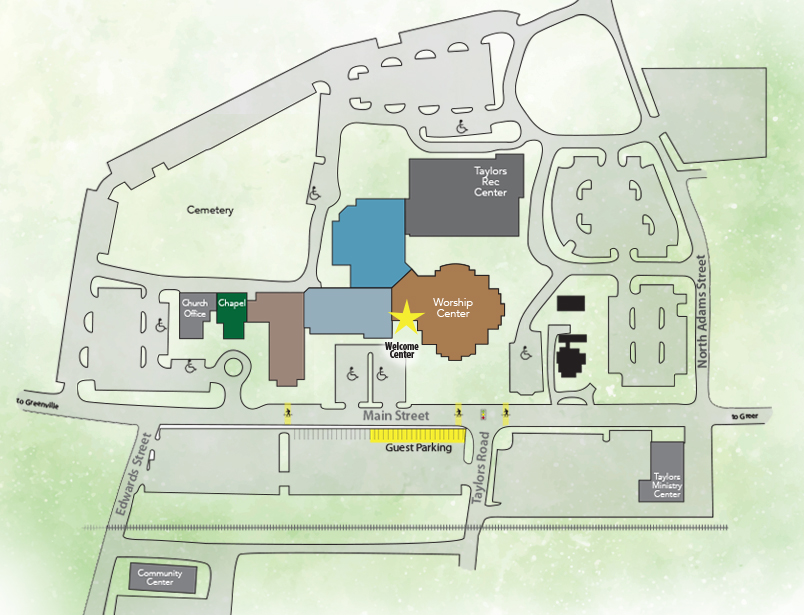 What is the best entrance to use if this is my first time?
Please park in a guest parking space in the main parking lot across from our church. Cross the street at the crosswalk and enter our Welcome Center through the double glass doors.
You will see our Guest Services Desk in front of you, and one of our Guest Services Guides will help you register and will guide you to either a Life Group or the Worship Service.
Do my Children and Students sit in during the service or do they have their own classes?
Preschool children from birth through K5 have their own classes during all three Worship Services.
Children in first through third grades have Life Groups or Kids Worship at all three hours except for the first Sunday of each month when they worship with their families.
Children in fourth and fifth grades attend Life Groups at 9:40 am and worship with parents at either 8:30 am (Band-Led) or 11:00 am (Taylors Worship).
Students in sixth through twelfth grades attend Life Group at 9:40 am and worship with their parents during either the 8:30 am (Band-Led) or 11:00 am (Taylors Worship) service.
Learn About Taylors Children Ministry
Learn About Taylors Student Ministry
are there life groups for Adults?
We belief in equipping believers and one way we do that is through the teaching and studying of God's Word in Life Groups. Life Groups offer the opportunity for individuals to grow deeper in their faith, while also growing in community through building relationships with others. We have many Life Groups to accommodate people of ages and stages of life, let our Guest Services team help you find the perfect fit.
We want you here with us at Taylors FBC, so come as you are! Whether that's jeans or a suit, you will see it all!
What Denomination is Taylors First Baptist Church?
Taylors FBC is a Southern Baptist Church that operates independently of any denominational control. By partnering with Southern Baptists for missions and other world-wide ministry efforts, we are able to offer not only our community, but other communities a culturally relevant worship experience as laid out in God's Word.
— Contact Our Church —
We Hope To See You This Sunday!
Our connections staff is looking forward to meeting you this Sunday!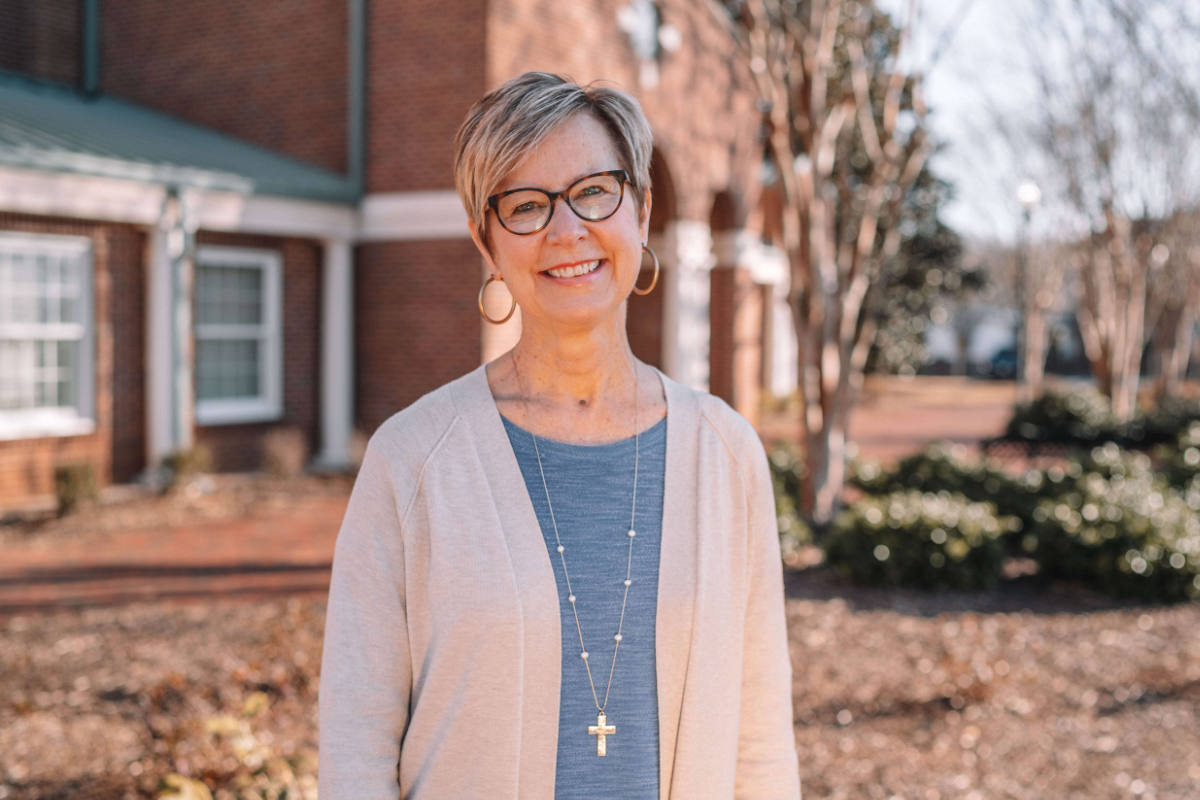 — Minister of Connections —
Kathy Dority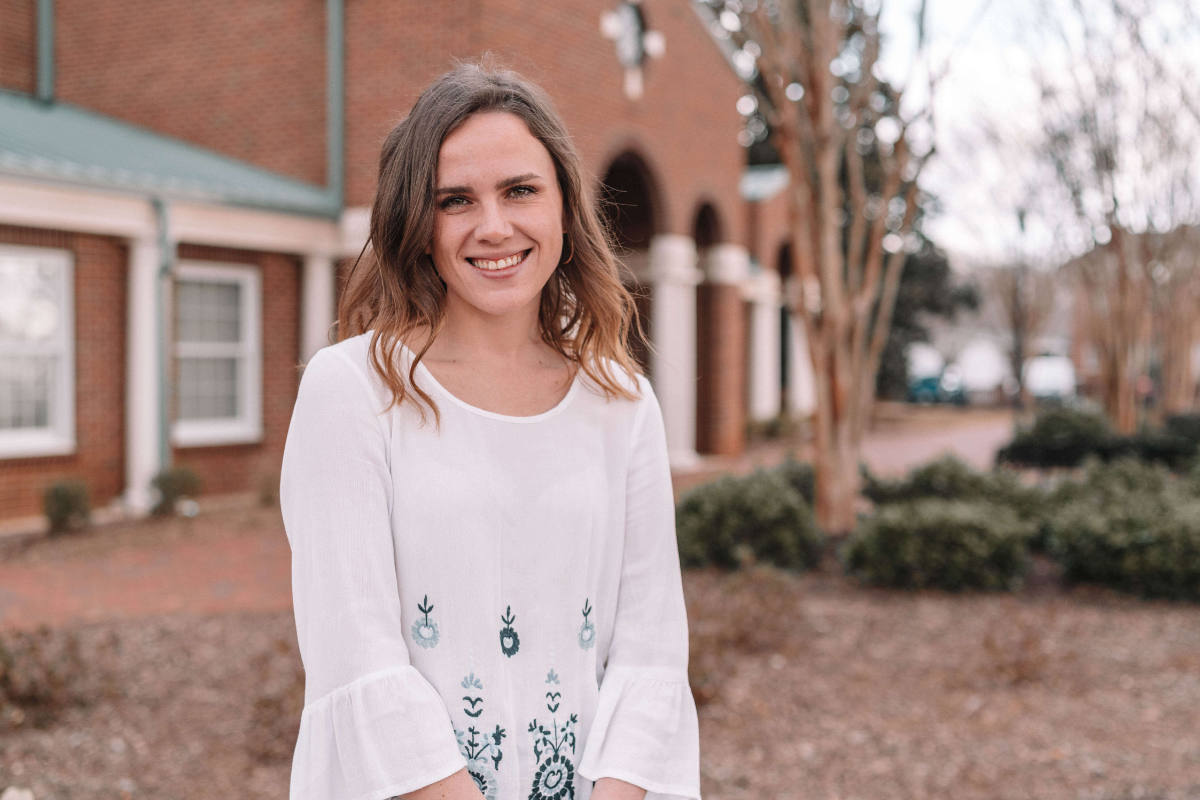 — Connections Ministry Assistant —
Shianne Bujtor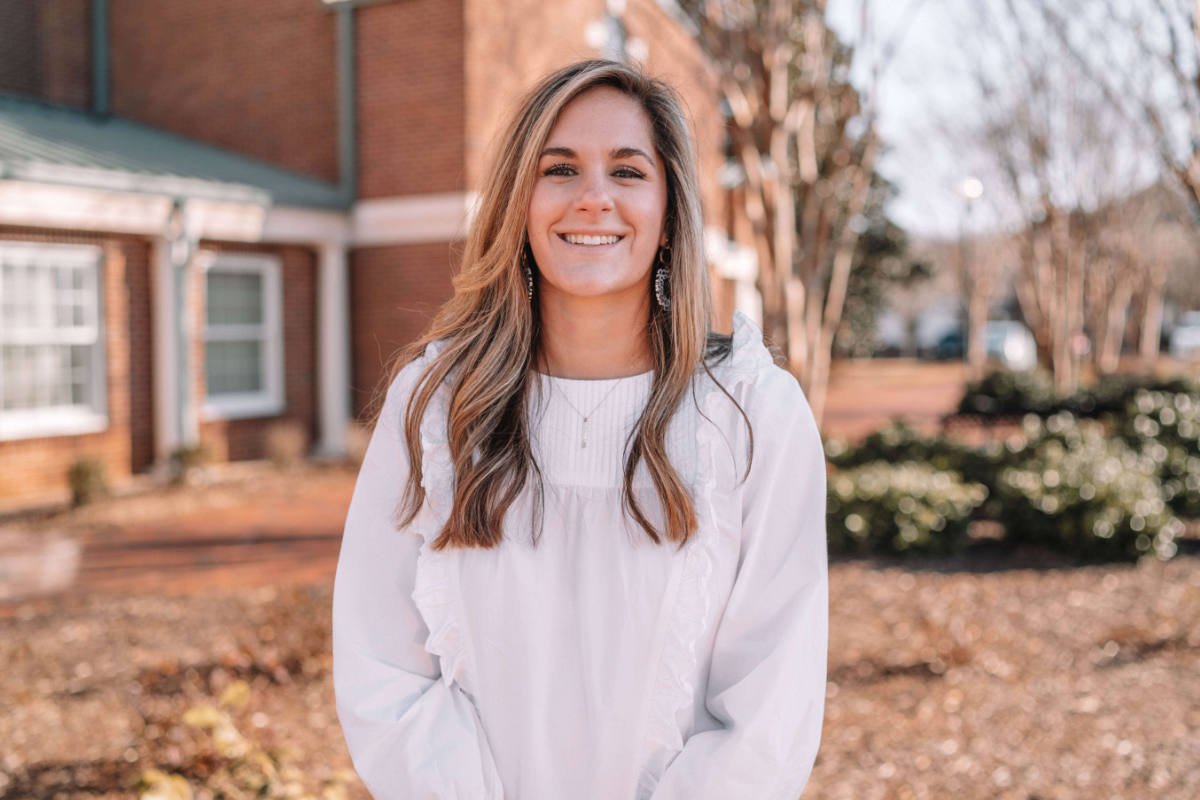 — Connections Ministry Assistant —
Kaitlyn Ross
Click the button below to plan your visit, ask a question, or let us know that you'll be worshipping with us this weekend.